Altrincham Dry Cleaning provides cleaning services for virtually all items of clothing, including leather and suede, curtains, rugs, upholstery and duvets. We are experts in dry cleaning, laundry service washes and specialist wet cleaning and provide additional services such as ironing, alterations and repairs. 
All items are cleaned in our premises located in Altrincham, just a few minutes from Hale, Timperley and Bowdon. Take a look through the full list of our services below for more information.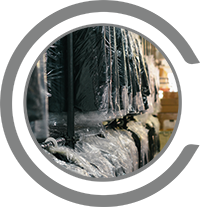 Dry Cleaning
Our highly experienced staff take great care to dry clean, process and hand finish all garments such as:
Designer and Delicate Fabrics
Wedding dresses and bridal gowns
Fur, Leather, Sheepskin, Suede, Silk
Suits, Trousers & Jackets
Dresses and Tops
Sweaters & Cardigans
Children's Clothes
Uniforms
Religious and Ceremonial Clothing
Curtains, upholstery, sofas & cushion covers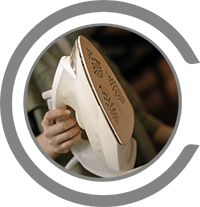 Ironing
Ironing service for all clothes and laundry including shirts, bedding and table linen – You can include your dry cleaning on the same pickup or drop off!
Highly experience pressing and ironing staff
COLLECTION & DELIVERY – Next day or to suit you
All clothes, bedding, linen, table cloths etc.
Hangers and bags provided
Hoffman presses and industrial ironing tables
Drive-in location with free parking
Pay by cash or credit/debit card
Account customers on application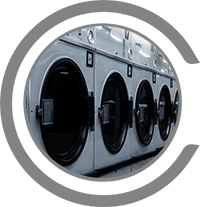 Laundry
We provide laundry service for your clothes, bedding and anything else that cannot be dry cleaned. We can wash, dry, iron, hang or fold your items and you're welcome to drop in and pick up or take advantage of our free local collection and delivery service covering. Laundry items include:
Clothes
Bedding
Duvets
Tablecloths
Towels
Much more…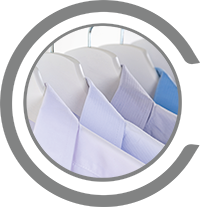 Shirt Service
Shirts are professionally laundered, pressed and presented ready to hang in your wardrobe or folded if you prefer.
Talk to us about collection & delivery. We offer same-day service if required!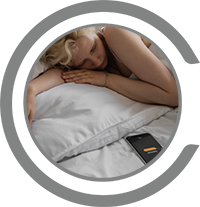 Duvet & Bedding
We clean everything up to and including super-king size duvets, clothes, towels and much more in our commercial launderette machines.
We clean everything up to and including super-king size duvets, clothes, towels and much more in our commercial launderette machines.
Duvets
Duvet Covers
Bedspreads
Quilts
Mattress Toppers
Pillows
Pillow Cases
Towels
Next day service can also be provided for most bedding and garments.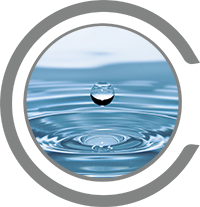 Wet Cleaning
If it can be DRY Cleaned, it can be WET Cleaned!
Wet cleaning uses water as a natural solvent producing an impressively effective and ecologically friendly clean. The innovative process ensures all kinds of textiles are gently and efficiently cleaned.
Using special biodegradable detergents and sophisticated equipment, wet cleaning is capable of cleaning all fabrics that would usually require dry cleaning, with some distinct advantages for many garments:
Fresh smell
Soft touch
Bright colours
Brilliant whites
Exceptional performance on delicate fabrics which would not survive the more vigorous cleaning process
Our wet cleaning system complements traditional dry cleaning and hand finishing processes and builds on our reputation for the highest standards of garment care.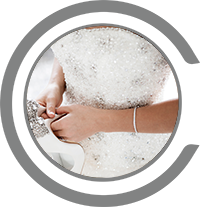 Wedding Dress Cleaning
The Altrincham Dry Cleaners Wedding Dress Cleaning Service will ensure your special dress is spotless and stored in perfect condition for many years to come.
Wedding dresses are meticulously cleaned and hand finished by our highly experienced team before being packed and stored in special presentation boxes which won't damage or discolour the dress. We can, of course, clean Bridesmaid, Mother of the Bride and all evening dresses to the same high standard.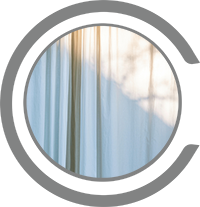 Curtain Cleaning
Specialist cleaning of all types of curtains, drapes, soft blinds and valances in manchester and cheshire by altrincham dry cleaners
We have many years experience and the most comprehensive range of equipment to guarantee the best possible care for your curtains.
Use this calculator to estimate your curtain cleaning price:
We combine dry cleaning, wet cleaning and sophisticated pre-treatement and finishing processes to clean unlined, lined, blanket lined, flame retardant and other specially treated curtains for homes and business around the North West.
You can bring them to us or call 0161 926 8412 to discuss collection, delivery and re-hanging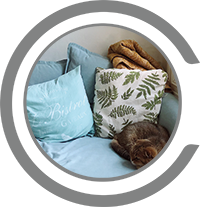 Sofa & Upholstery Cleaning
We do a great job brightening up sofa covers, cushions, throws and other upholstery
Call 0161 926 8412 to discuss your requirements and for a free estimate!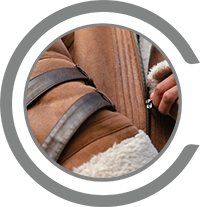 Suede & Leather Cleaning
Expensive garments requiring special care and attention:
Suede
Leather
Sheepskin Coats and Garments
All cleaned on the premises by highly experienced staff.
Call 0161 926 8412 to discuss your requirements and for info on prices.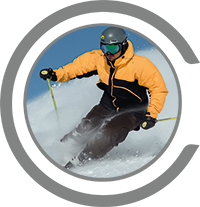 Ski Wear Cleaning
Get ready for your trip or ensure that your ski wear is cleaned and put away safely until the next time!
Specialist dry cleaning by highly experienced technicians:
Ski Jackets
Salopettes
Hats and Gloves
Call 0161 926 8412 to discuss your requirements and for info on prices.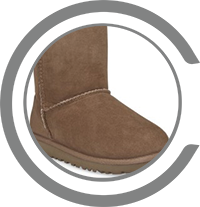 Ugg Boot Cleaning
UGG Boot Cleaning – Send them to us and we'll deliver via courier anywhere in UK ! STANDARD CLEANING PRICE: £24.95 (Inc. UK mainland delivery, if required)
Altrincham Dry Cleaners offers a cleaning service for UGG and other types of suedes/sheepskin boots, cleaning and reviving the suede as well as thoroughly washing the sheepskin lining.
This is a low temperature, full immersion system which ensures the suede isn't subjected to harmful rubbing and because it's a cold process, the structure of boot isn't affected.
Prices from £24.95
Call 0161 926 8412 for more info and to arrange collection/delivery.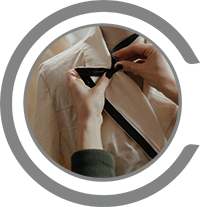 Alterations & Repairs
Our tailoring service provides a comprehensive alterations and repair service for all clothing including leather and suede as well as curtains and upholstery:
Buttons sewn on or replaced
Hems turned up or let down
Seams repaired
Dresses and waistbands taken in or let out
Sleeves shortened or lengthened
Curtains hemmed
New Zips
Leather work
Trousers and jeans tapering, shortening, mending
Patches
Call 0161 926 8412 to discuss your requirements and for a free estimate!
Took my wedding dress here, it was in a real state but they did an amazing job! They put it through 4 times and I can't believe how much they managed to get out. One of the straps had broken and they had also fixed that. Ready quicker than advised too. Will definitely use again.
Visit our shop, phone us, or send a message.